How to Find and Fix Broken Links
( Step By Step Guide )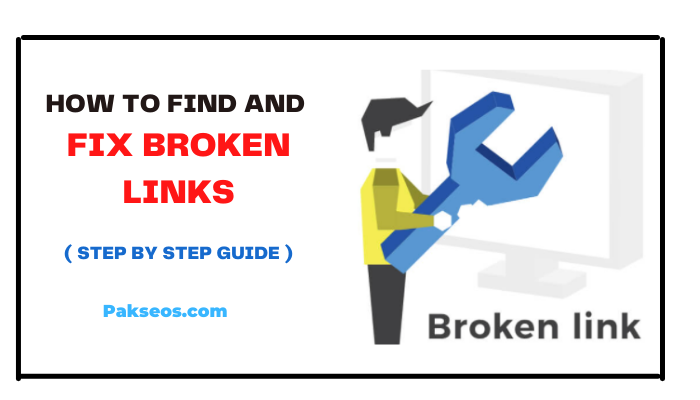 Are you new to SEO or an intermediate SEO then you must be aware of the term Broken Links? But what actually is Broken links. Do they impact your ranking and site health in google and how broken links are created on your website, how to find and fix them, and a lot more questions I will cover in this article. So let's get started.
What are Broken Links?
The Broken links are the links on the web that are no longer working. They are the following:
URL change by the admin.
The linking Website is no more Live.
Place Invalid link or 404 pages
In the case of an image, The image may be deleted.
Changing in Website Permalinks Structure.
These are the possible conditions that cause a broken link.
Types of Broken Links. ( Internal , Image Link and external )
Basically, If we talk about broken links there are two main types.
Internal Broken Links. ( Your Websites Link )
External Broken links. ( The site you linking to )
Internal Broken Links:
If we talk about internal broken links then there might be several reasons for that, the few are the main reasons we may modify the old URL or we may delete the complete page and forget to redirect or update the internal link on the website.
External Broken links:
This is due to an external website's activity like the site is more available live or the admin of the external website may change his link. The admin deleted the page that your website is linking to.
How Broken links are Generated on Your Websites?
This is one of the most important questions by the SEO newbies why and how broken links are created on my websites. As I already explain the reasons above this is due to the following.
Change in permalink structure
Modified links
Delete the page/post
Place an Invalid link.
How to find Broken Links?
Now let's come to the part of how to find broken links and fix them step by step on your website. I will share both methods with you paid and free. So First let talk about free broken link finder tools:
3 best Free Tools For finding Broken Links:
This is an online website where you can put your website URL and it will crawl and analyze your whole site and give you the list of all the broken links that are on your websites. This is how it works.
Enter your website URL.
After that, you need to fill Captcha and before stating the scan you got 2 options:
Report distinct broken links only
Report all occurrences of each dead link (may be slower)
It's up to you which option you select. After the scan, you will see something like this.
====================================
Then second and my favorite tool for finding broken links is Dead Link Checker. It's very fast and so simple to use and also it's very accurate than other tools in the market. All you need to do is just put your website select an option below and then just click on the run button the rest of the work tool will do itself.
====================================
So here is the 3rd and last free Broken Link checker tool. This one is also fast in-depth as well. So let's walk through a guide of how to use it.
Put your website URL in it and click start check.
Here is the interface of this tool on the left sidebar you can see the panel where it shows you all the sections of how many issues are there and how many links are broken and redirected e.t.c.
So luckily we don't have any broken links on our website.
In case if you found any broken link then just visit the link from the page, find the link where it is placed and remove it or fixed it if possible.
Best Paid Tools To find Broken Links in 2021:
How to Found and Fix Broken Links With Ahrefs.
Ahrefs is no doubt one of the best tools in the SEO World. ( Personally, I called SEO Knife for Competitors ). You can do a lot of SEO work and pretty much any SEO task with this tool. So just stay on topic.
Here is how you can use Ahrefs for finding and fixing broken links.
Step 1. Open Ahref Site Explorer and put your domain.
Click on search buttons in just a few seconds and it'll show you everything about your site.
Step 2. Click on the Broken Links
On the left sidebar, it will show you the broken links under the Outgoing Link section. Click on that.
Step 3: Results
Here as you can see that my websites have no broken links so it shows nothing but if your site has broken links it will show you the URL list you can export that in excel or CSV and then you can remove, redirect or fix them.
So I hope this guide increases your knowledge regarding broken links and helps you find and fix broken links. Feel free to ask if you have any questions through email or in the comment section.
How to Found and Fix Broken Links With Semrush:
Finding broken links with a semrush is quite simple, easy, and faster. Just follow the steps mentioned below.
Step 1: Login to Semrush and Go to Projects
Login to your semrush and on the left side clicks on the projects and then select a project. In this case, I'm using my client's website.
Step 2: Click on the Site Audit tab and then move onto the issues tab. 
As you can see above we have some broken links on the client website that need to be fixed. So this is a simple and faster way to find broken links on a website using Semrush.
Best Chrome Extension To Finding Broken Links
So If you don't want to check the broken link of the whole site and you just want to check the broken links of a specific page on the web by changing the tab then thanks to the Google Chrome extensions they will do this task for you. Below I mention the chrome extension that I used for checking broken links of a page.
SEO Minion
Check My Links
SEO Minion:
Let me clear a thing here it is a way advanced extension then just checking the broken link of a page you can use this extension for checking the overall on-page SEO of the website. Install the extension in the chromes it may take a minute or 2 hardly. But it's worth its time.
After installing the extension you can open a page where you want to check broken links and for that click on the SEO minion, you can see a variety of options there.
Let's stay on a topic we will go for a broken link. As soon as you click on the check the broken links it will show you this dashboard.
This extension is very detailed and also gives you a filter option which makes it best as you can see we have all the options that we need like follow, nofollow links and in the below table we can see how many links are redirecting, how many are valid and how many links are 404 Not Found.
So If you have any broken link on the page you got it now and it's time to fix it.
Check My Links:
This is another one of the best and popular broken link extensions in the market. It is very simple to use, just click on the extension icon, and then it will start doing its work.
You can identify the broken link by red color if there are any broken links. So it's a bit slow according to me but a good extension you can use.
How to Fix Broken Links?
So now you know how to find broken links it's time to know how to fix them.
So basically you have 2 options to fix broken links.
Redirect the link to the new page if you change or modify the old ones.
Just remove the link and add a valid resource if you think it suits you best there.
To redirect a link you need a plugin for this purpose you can use Yoast Redirects, RankMath SEO, or specific plugins that are created for the sole purpose of redirecting called Redirection.
If you don't have time or have a large number of broken links on your websites and want to fix them we can help. You can contact us here or directly call us at 03449597948.
Best Plugins To Fix Broken Links
There are tons of plugins in the market that are available for fixing the broken link in the websites. But I recommend the following.
Broken Link Checker ( My Favourite )
Broken Link Checker for YouTube
Broken Links Repair By Hexometer
You can install them and explore the option and play with them. But here is how you can fix a link with Broken Link Checker.
Pro tip = How to fix bulk Broken links in just one click.
After installing and activating the plugin you need to go to the tools and on the left-hand side of WordPress see the tools option and in the submenu goto to Broken Links.
Ohhh as you can see we have some broken links. So it's time now to fix them.
You can select all the links that are broken and then on the upper you will see a bulk action option choose the one that best suits you and apply it. Your links will be fixed.
Does Broken Links Affect Your Ranking in SERP?
Well, the answer to this question is definitely they will affect your rankings and if you will not fix them at the right time you will see a decrease in your organic rankings and traffic so that's why it's important for you to check them on a regular basis and if you find any you need to fix it.
I hope this article will help you a lot and clear all of your questions regarding broken links. If you have any queries feel free to let me know in the comment box or directly fill out the form I will be very happy to assist you.