12 SEO things to Check Before Launching a Website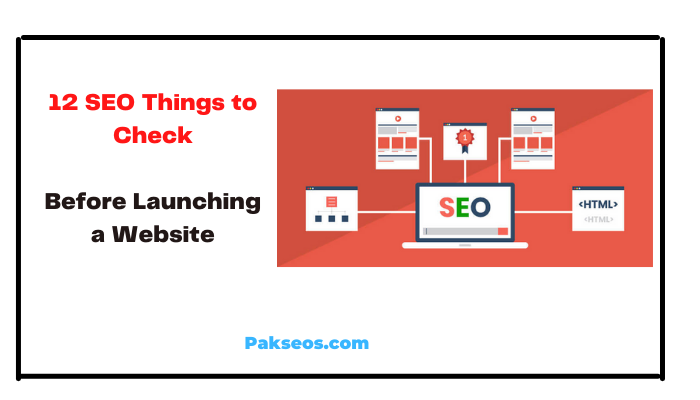 SEO or Search Engine Optimization is the combination of tips and tricks to enable websites to rank higher in search engines such as Google. This helps websites get noticed, drive more traffic and in turn increase sales and revenue.
An effective online presence is crucial in today's world. A good website is the holy grail of the internet and is imperative for brand building. From established brick-and-mortar businesses looking to build an eCommerce store to those who are now planning on starting an enterprise, an SEO-optimized website is a crucial step towards success.
A pre-launch SEO checklist will help businesses start off on the right foot as it gets considerably harder to change things once the site goes live. This initiative enables businesses to save money and drive results. There are many software houses in Islamabad that specialize in SEO practices for greater success and increased conversions.
SEO Things to Check Before Launching a Website
Use our Pre-Launch SEO Checklist to get ahead of your competition and launch an early digital marketing campaign.
Effective Domain Name
Defined Site Structure 
URL Structure styles
Keyword Research and Target Audience
SEO Optimized Content
Fit Google's Webmaster Guidelines
Meta-data Optimization
UX based SEO and Page speed
Mobile-friendliness
Install Analytics and Tracking tools
On-Site and Off-Site SEO
Regular Updates
1. Effective Domain Name
A website's domain name is its calling card. It should reflect the brand image and be aligned with the products or services offered. Domain names help search engine crawlers identify the page's intent. Including a keyword into the domain name helps searchers find the page through search engines and The main characteristics of a good domain name include:
Aligned with Brand
Reflective of the Product/Service
Short and Simple 
Easy to remember
Include Keyword
Unique
Relevant to the market
There are many SEO tools to generate domain names and keywords for page titles.
2. Defined Site Structure
Having a clearly defined site map and architecture will help you build your website as your business grows. Search engine robots crawl web pages to help index the content and classify and rank web pages. Start with a basic site structure of Homepage, About page, Contact page, Blog, and Services, etc.
Having a basic skeleton will help you keep content organized and interlink pages for a more enhanced user experience. A flatter architecture where most pages are few clicks away from the homepage is ideal for both crawlers and humans to navigate. To make the web development process easy our web experts are always here for your help.
3. URL Structure styles
It is important to have a simple and clear URL structure to help search engines index the website and understand the site structure. An easy-to-understand URL makes it attractive to users in the SERP (Search Engine Results Page) and improves Click Through Rate (CTR). The URL structure once defined cannot be changed later, hence it is imperative to have it optimized before launching your website.
4. Keyword Research and Target Audience
Researching for business-relevant keywords to target the required audience can help businesses design their content accordingly. This helps the customers find their desired products and services creating a winning situation for both.
The types of keywords that can be embedded into a website include:
Head-keywords: These keywords are highly competitive and generalized and embedded into pages of a website.
Long-Tail keywords: These are more defined keywords for specific topics such as products and services.
Intent-driven keywords: These keywords are highly specific and are focused on increasing conversions by enabling customers to find their intended product.
5. SEO Optimized Content
The best content is built for the user. It allows the user to find what they require and naturally embeds the required keywords into the articles. A well-researched and high-quality content, providing a good user experience is the best example of SEO-optimized content.
Aim for a keyword density that feels natural to the flow of the topic. A good guideline to follow for content is EAT: Expert, Authoritative and Trustworthy.
6. Follow Google's Guidelines
Google is the foremost global search engine that has established guidelines for businesses regarding pre-launch SEO practices. The essence of these guidelines is to create websites for the intended user and any SEO practice should not detract from the original goal of helping and informing the customer.
Any malicious bad practices such as backlinking schemes, hidden content, harmful content, malware, stolen content, etc. can lead to your website being penalized by the Google indexing platform, causing irreparable loss to the brand. At Pakseos Our SEO Experts use white hat  SEO strategies to enhance your business online and help you get more leads you can get your free instant SEO Quote here.
7. Meta-data Optimization
An important strategy used by Software houses in Islamabad to improve site SEO before launch is Meta tags. These are the titles displayed on SERP, social media pages, and web browsers. Most Content Management Systems (CMS) and hosting platforms have an automatic system in place for generating unique meta titles for pages.
Ensure you can edit and customize these tags for your website. These tags help your website get ranked, hence an ideal meta tag would be unique, accurate, descriptive, and keyword-rich.
8. UX based SEO and Page speed
Google intends to use its Core Web Vitals as an SEO ranking signal in the future. Hence it is important to have these metrics optimized before launch. These vitals include  LCP (Largest Contentful Paint), FID (First Input Delay), and CLS (Cumulative Layout Shift) pertaining to slow page load and click reaction times. Speed is key to retaining visitors.
This can be achieved through the following strategies pre-launch:
Optimizing Image Size
improving Server Response Time
Minifying code 
9. Mobile-friendliness
Customers and users are increasingly shifting to smartphones as the mode of choice for website navigation. Hence it is essential for websites to build a responsive design and create a mobile-friendly user experience.
This can include:
Reduced page-load time
Optimized text size
Easy navigation
Reflexive formatting 
Most mobile users abandon the website if it takes more than 3 seconds to load. Bear in mind to implement effective strategies to improve the mobile user experience before launching your website.
10. Install Analytics and Tracking tools
Setting up a system to measure site traffic, track visitors/sessions, and quantify important website KPIs is a crucial part of a website's pre-launch SEO strategy. The two most popular tools for this include Google's Analytics and Google Search Console.
These help websites with measuring conversions, new visitors, revenue generated, etc. Such data is integral to a brand's digital marketing campaign.
11. On-Site and Off-Site SEO
It is important to focus on both on-site and off-site SEO best practices before launching your website. The On-site SEO checklist for new websites should include:
Choosing keywords
Writing title tags
Writing strong meta descriptions
Optimizing images for analytics. 
The Off-Site SEO strategy incorporates a strong backlink portfolio that helps users land on your website through other more popular web pages.
Other good SEO tricks are creating links to larger authority sites, implementing an internal linking system, keep an eye on broken links and fix them, and including social media sharing options.
12. Regular Updates
Set up a system to regularly update your website and fix any problems. Site audits help identify any improvements required. Such small changes can greatly improve the user experience leading to more traffic and increased sales. Stay up to date with industry news to keep your website in line with the ongoing trends.
Build Your Website Today!
Multiple software houses in Islamabad perform services regarding building and launching SEO-optimized websites. Use Ebridge comprehensive pre-launch SEO checklist to ensure your site is ready to be launched into the online world.